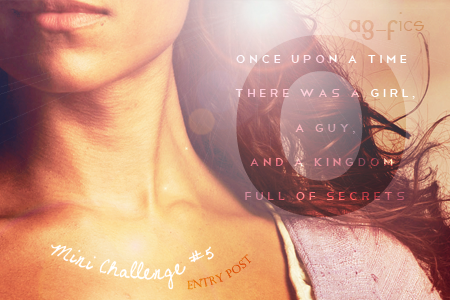 ::THEME WORDS::
Anonymous || Left || Exhibition || Comics || Cowboy
STARTS:
Now :::::
ENDS:
Friday 11th May 2012 23:59
(AEST)
Welcome to the very first
ag_fics
Mini Challenge of 2012, experimentally posted onto Dreamwidth (since MCs require subject headings and LJ doesn't want to play that way right now). I'm
Mustbethursday3
on LJ and

mustbethursday
on DW which is hopefully not too confuzzling. But if it is, never fear there are three things you can count on to remain the same:
1) This is all about Arthur and Gwen and their relationships with their friends and family (and enemies and random monsters).
2) You must have fun. It's a requirement.
3) You must use the Theme words above to prompt you somehow.
:: 10 Rules to keep things civil and organised ::
1. This Challenge requires prompts. So prompt your little hearts out, and tell your friends to drop by and do the same -
there's no prompt limit
:)
2.
Stay Anonymous
. Whether you're the Prompter or the Writer, we don't want to see any usernames. (This means you
don't
need a DW account to play)
3. Prompt anything to do with any of the above Themes. Use one, use two or three, hell use them all - just stick to the Themes as best you can.
4.
The only things posted to this post should be PROMPTS and FILLS/FICLETS
. See below for links for other things.
5. Please respond to any prompt posted,
there's no limit on how many times a prompt can be written for.
6. If you don't see a tempting prompt below, but you have an idea, then prompt it, and reply to your own prompt.
7. Prompts and Ficlets mustn't break or rubbish the A/G pairing (this is an Arthur/Guinevere Community Challenge after all).
8.
Don't repost
your ficlet anywhere else or tell anyone which is yours before the Winners have been announced.
9.
All Prompts must feature the word 'Prompt' in their subject line.
10. All Replies must have subject line's formatted like this - '[
Title
] - [
Rating
] - [
Genre
(if applicable)]' ...ie 'The Outsider - G - Angst'.
**** As a Bonus, the first two ficlets and the very last two ficlets posted will receive automatic entry into the Voting Post. I'll be checking IP Addresses to make sure that we get at least two different people winning a wildcard entry.